Best Wings on the Shore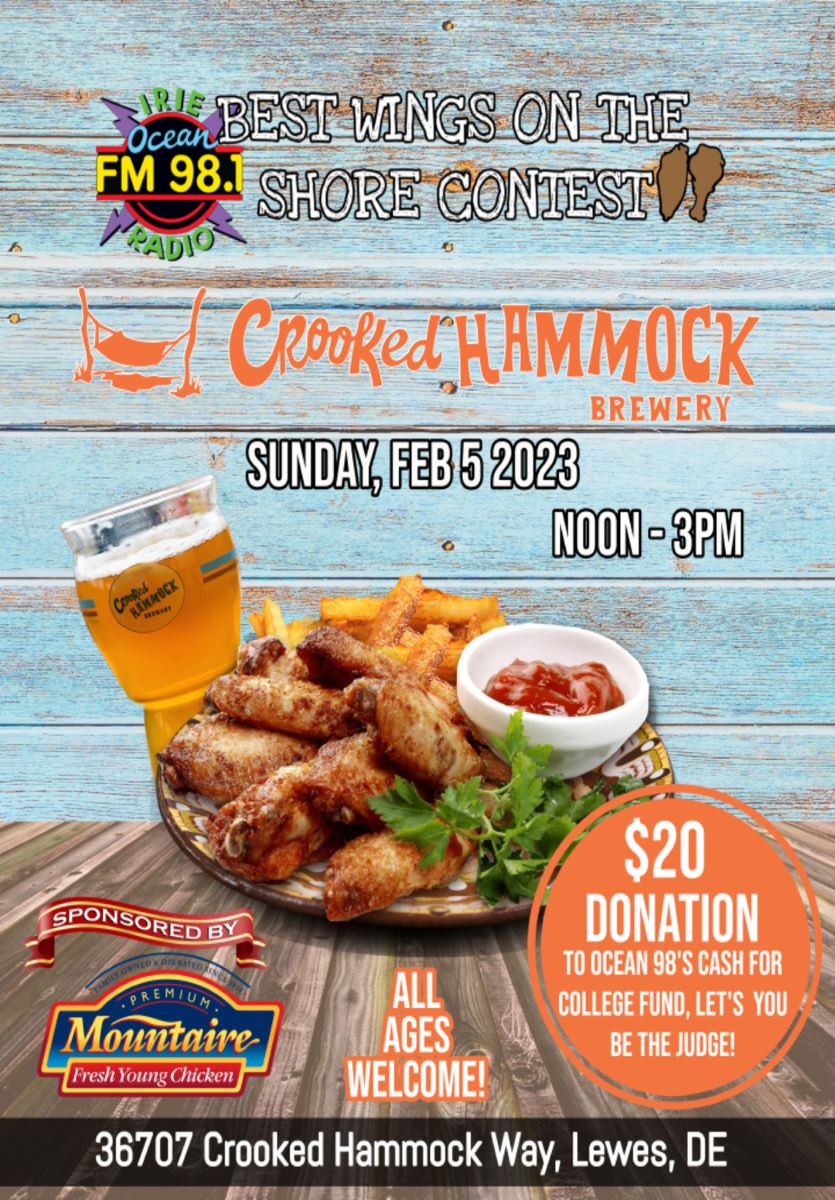 Ocean 98.1 WOCM-FM with presenting sponsors Mountaire Farms and Crooked Hammock Brewery will hold the 9th Annual "Best Wings on the Shore" Contest on Sunday, February 5, 2022, 12-3pm at Crooked Hammock Brewery in Lewes. Proceeds from this event will benefit the Ocean 98 "Cash for College" Fund.
The $20 entry fee charged at the door will provide each attendee a judge's ballot, allowing for unlimited tastings of the wings prepared for the event by some of our community's best restaurants. The categories that will be judged are "Best Overall", "Most Creative" and "Hottest".
Mountaire Farms has returned as a major sponsor, and will be graciously donating fresh wings to each competing restaurant to be used for their competing entry.
Crooked Hammock Brewery in Lewes, part of the LaVida Hospitality Group, will once again be a major sponsor, providing their venue for the competition. They will also be pairing a special, in-house craft beer for the event.
The competition field is limited to 20 area restaurants: 45th Street Taphouse, Bethany Blues, Big Chill Beach Club, Bourbon Street on the Beach, Bull on the Beach, Chaps Pit Beef, Crooked Hammock Brewery, Seacrets Jamaica USA, Sussex Amvets Post 2, Grain on the Rocks, House of Sauce, Kick 'N Chicken, Lewes Oyster House, Mad Hatter Cafe, Ocean 13, Papi's Tacos, Taco Reho, The Sterling Tavern, Thompson Island Brewery, Woody's Dewey Beach.
This is a family friendly event with children under 10 being admitted at no charge. The Ocean 98 "Cash for College" fund provides a $2,500 scholarship each year for an outstanding high school student in Worcester, Wicomico and Sussex County.